Community Seminars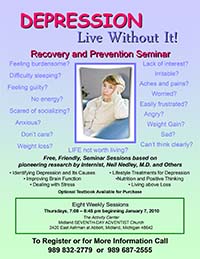 In an effort to meet the needs of both our members and the community around us, we have organized several seminars on timely topics. The Living Free seminars deal with health related topics such as smoking cessation, help with depression and stress, plant based cooking classes. In addition we also offer marriage and family seminars. To bring faith into our lives in a very practical way we have had seminars called Religion at the Interface. With guest speakers these seminars address such topics as creation vs evolution and its meaning for our lives, what archaeology tells us about the Bible, DNA and genes, Christian history.
The frequency of some seminars depends on demand.
You may express your interest on the Contact Us page here.
For more information about the various seminars view the fliers of past seminars here.
Living Free Seminars
Lifestyle Change Cooking Classes (each spring and fall)
Depression--Life Without It Seminar
Stress Reduction Seminar
Dealing with Obesity Seminar
Breathe Free Stop Smoking Plan
Dr Arnott, Author of 24 Realistic Ways to Improve Your Health
You may register online for the current Living Free Seminar on the Living Free page here.
Marriage and Family Seminars
Love and Respect with Emerson Eggerich via DVD
God's Heart Call to Inner Peace with Dorothy and Bruce Hayward
Financial Peace University with Dave Ramsey
You may register online for the current Marriage and Family Seminar on the Marriage and Family page here.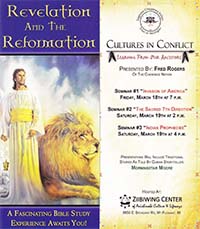 Religion at the Interface Lectures
These lectures are offered when speakers are available. To get a flavor from past seminars click here.
Other Seminars
Chance or Design?
Cultures in Conflict
Daniel: A Serious Look at the Man and the Prophecy
Revelation and the Reformation
Revelation of Hope