Living Free Seminars
Part of the gospel describes how Christ has set us free. This includes not only from the power of sin in our lives, but also from harmful practices which hitherto has kept us in bondage. It is the goal of the Living Free Seminars to help free people to live healthier, more fulfilling lives. We encourage the greater Midland community to attend.
Lifestyle Change Cooking Classes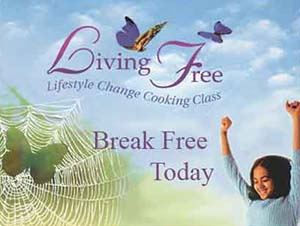 These classes give the scientific basis relating nutrition, diseases and health. Each week the class will feature plant-based menus and hands-on meal preparation. And each week you will enjoy eating a complete demonstration meal. This free class meets for 5 weeks from 5:30-7:30pm. For more information call 989-687-2555. Use the handy registration form below to register for the cooking class.
Depression--Live Without It, Recovery and Prevention Seminar
Are you feeling irritable, guilty, withdrawn, with aches and pains, weight gain, foggy thinking, chronic sadness? These are only some of the many indications of depression.
This free seminar lasts 8 weeks, from 7:00-8:45pm, and is based on the pioneering work of Dr. Neil Nedley, author of Depression, the Way Out. Learn how to identify depression and its causes, improve your brain function, eliminate negative thinking and other simple modalities which will eliminate depression from your life. Depression! You, too, can live without it.

For more information, please call 989-832-2779 or 989-687-2555. Use the handy registration from below to register for this important seminar.
Stress Reduction Seminar
Breathe Free Stop Smoking Plan
You've tried to quit before. You've worn the patch. You've chewed the gum. But you are still smoking. Now there is real help. The Breathe Free Plan to Stop Smoking has helped over 20 million people in the past 50 years to stop smoking. The plan addresses the issue from three directions: the physical addiction, the psychological need and the spiritual needs of the person. This time you CAN quit for good. The program runs for 8 days from 7:00-8:30pm. Use the form below to register.
Note: Registration for seminars dealing marriage and family are on the Marriage and Family page of this website. Click here.
Living Free Registration
Please fill out the form below to register for one of the Living Free seminars or classes.