Children's and Youth Sabbath School Classes
As Christians it is our privilege and responsibility to train those of the next generation in the knowledge of the love of God as found in the Bible.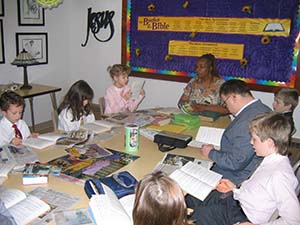 From the smallest children on up we provide structured, age appropriate classes where children and youth can learn the truths of the Bible. If you are new to our congregation, please ask the greeter where your child's class is located. Parents may stay with small children if they choose to.
Adventurers
For children in grades 1 through 4 we offer an Adventurer's Club—a club where kids can learn social skills, independence and self control. Membership in the SDA Church is not necessary. Visitors from the community are welcome. Some of the goals of Adventurer clubs are
to help children commit their lives and hearts to Jesus,
to help children gain a positive attitude toward living a Christian life,
to help children acquire the habits, skills and knowledge needed to live for Jesus today,
to help children experience the satisfaction of doing things well,
to help children learn good sportsmanship and their ability to get along with others and
to help children understand what makes families strong.
More information can be found at the official Adventurer website at http://www.adventurer-club.com
Pathfinders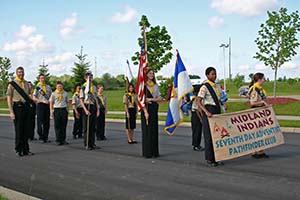 For youth from grades 5 through 10 we offer a Pathfinder Club which is similar to scouts. Membership in the SDA Church is not necessary. Visitors from the community are welcome. Some of the activities of Pathfinders are
camping and survival skills
grade appropriate leadership training
activities that promote community pride and outreach
recreational activities that enhance artistic and vocational skills
work on "honors"—badges that signify knowledge in an area such as baking or animal tracking. There are around 300 honors available.
Pathfinder classes are as follows
Friend—Grade 5
Companion—Grade 6
Explorer—Grade 7
Ranger—Grade 8
Voyager—Grade 9
Guide—Grade 10
Master Guide—two year award granted to those who are committed to the ideals of Pathfindering.
More information can be found at the official Pathfinder website at http://www.pathfindersonline.org/
Camping
Camp AuSable has the motto "Where God meets His children".
Camp AuSable started in 1947 for the purpose of providing a place in nature where children and later those of any age can meet God. It provides recreation in a healthy environment running year around. It includes Lake Shellenbarger which affords swimming and canoing, a Nature Center with displays of plants and animals, various lodges and cabins and campfire locations. Activities include horses, go carts, various arts and crafts, and a healthy spiritual atmosphere where children can learn about Jesus.
More information can be found at the official Camp AuSable website at http://www.campausable.org
Preparing for Baptism
Youth who are old enough to understand the commitment that they are making when they accept Christ as their Lord and Savior may be baptized when they feel ready. Before baptism, however, they will go through a systematic study of Christian beliefs. If you wish to discuss baptism in the future, please contact the pastor at pastor@midlandsda.org
To introduce a child to Jesus we suggest the free, online Bible Lessons from 3ABN's Kids Time with Miss Brenda. They may be accessed here.