Meet Pastor Thompson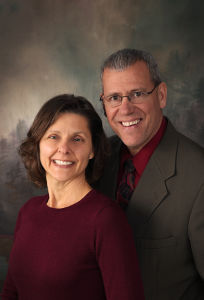 Pastor Rodney Thompson (Rod) was born in Alpena Michigan and was called into ministry by the Lord at age 15, but he said no. It wasn't until 20 years later that God was able to shake him up, wake him up and pull him out of the world. At that time he was in business with two other men in San Diego California (a very successful business) but it didn't take long after his experience with God to figure out that he couldn't chase both God and money. Through a difficult set of circumstances he ended up leaving his business and moving back to Alpena. It was here that he first realized that God was once again calling him into pastoral ministry.

He began pastoring a small Non-Denominational church in 2002 and on February 7, 2004 was ordained. Several years later he realized that the church was growing but he didn't feel like he was, so he and his wife, Sabrina, began praying that God would send someone into their life to help them grow. God immediately answered that prayer and a woman came into the church Bible study that was going on midweek. Rod and Sabrina started studying with her and her husband one on one and they started sharing the Sabbath with Rod and Sabrina. They were not Adventists and they didn't have the corporate day of worship but they had the rest. Pastor Rod and Sabrina saw the truth and they started keeping the Sabbath (as much as they knew about it) while he preached on Sunday.

But when they saw that God was answering their prayer and they were growing, they began to pray even harder for more light. Once again God proved Himself faithful and timely. At 6pm one evening as they were driving home, they saw a sign on the side of the road at the local civic center that said Unlock Revelation seminar starts tonight at 7pm. They went home, got their bibles and went back. They went through the whole series and learned so much that it completely changed their lives. In December of 2008 they left the church that he was pastoring and became Seventh-day Adventists.

God continued to work on Rod and in 2012 he realized that God was calling him to be a pastor in the Adventist church. Rod and Sabrina then began praying that God would provide a way that he could pastor in the Michigan Conference. On March 1, 2014 He was installed as the pastor of the Monroe and Tecumseh Seventh-day Adventist churches where they have been serving. The Pastor and Sabrina once again felt the call of the Lord, this time to Mt Pleasant and Midland churches where they currently serve. They both extend their heartfelt wish that if you have not yet found a church home, please consider that the Lord may be leading you to either the Midland or Mt Pleasant Seventh-day Adventist Church where you can be nurtured in the good soil of truth and love to grow strong in the grace of Christ.